Install VPN, Kodi, Mobdro, Exodus & More
Jailbreaking a Firestick is the most popular method to source and watch free streaming movies, live sports, IPTV shows, and music. Cord cutters worldwide have taken advantage of this little miracle device since first introduced November 19, 2014 (just in time for Amazon's Black Friday and Christmas sales).
There's a very good reason for this…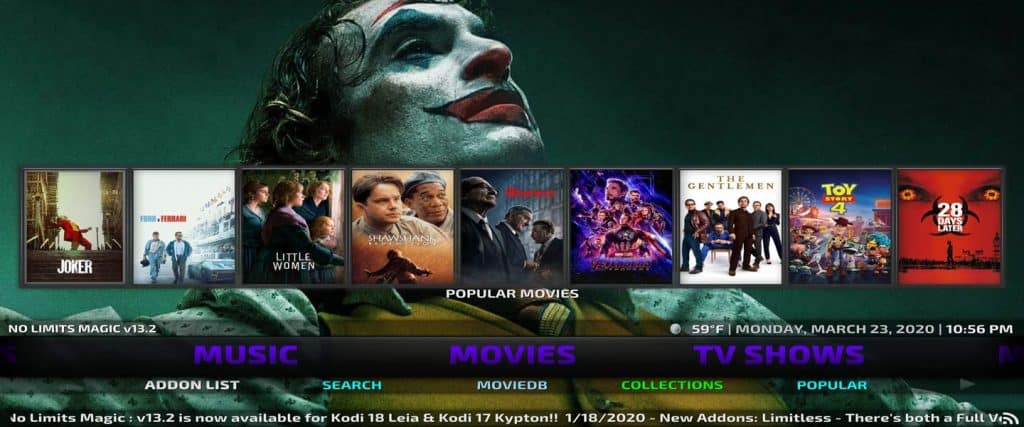 In this guide, I demonstrate exactly how to jailbreak a Firestick with one simple, legal hack. What you choose to stream for free once anything becomes available could land you in trouble if you're not using protection.
This tutorial also serves as a guide to unlocking a jailbroken Firestick, Fire TV, and Fire TV Cube device for free streaming online.
An Amazon Fire TV Stick is a fantastic entertainment device when combined with jailbreak APK installations. The Firestick 4K and Fire Cube are the best entertainment center streaming devices available for a big screen 4K HDTV.
All FireOS devices unlock the same way. It only takes a few easy steps:
enable apps from unknown sources
install Downloader or ES File Explorer
connect through your Firestick VPN app
side-load third-party streaming jailbreak apps
install and setup plugins (if necessary)
We'll go through these jailbreak steps in more detail below to make sure you get to watch all the free streaming content you want. I'll even teach you how to install a great looking Kodi build full of working video addons.
These will get you started streaming free movies, TV shows, news, sports, and far more on your new Kodi Firestick.
That you care enough to share my work means the world to me. Seriously, sharing helps the site grow. I like that and so should you.
Jailbreak Firestick Quick & Easy Guide
If you need more comprehensive information, I provide a detailed step by step guide to jailbreak a Fire TV Stick along with some extra tips and tricks farther down the page.
Within the system settings of the Firestick or other FireOS device you want to jailbreak, you must enable apps from unknown sources.
Then, use the search function to find the Downloader app on the Amazon App Store. Download, install and open the Downloader app.
Navigate Downloader to http://kodi.tv/download and download the ARMV7A (32 BIT) APK file, then install it.
If you haven't already done so, launch your Surfshark VPN app and connect to a secure VPN server.
Lastly, install some third-party video addons available for free streaming once you jailbreak your Firestick.
How to Stream Anonymously
Your IP address and unencrypted connection allow government agencies, marketing firms, your ISP, and other hackers to monitor and record all your online activities. Big data mining is big business and so are court cases. Once you jailbreak a Firestick, a VPN is highly recommended.
CAUTION: Your exposed IP address is 181.177.122.180
Protect yourself with a trusted VPN. Hide your identity and location while encrypting all incoming and outgoing data with your Surfshark VPN app. Nobody will see who or where you are or what you are browsing or streaming online.
Surfshark VPN Sale - Only $2.49/Month Right Now
30-day money-back guarantee
Detailed Firestick Jailbreaking Process
All actions detailed in this step by step jailbreak guide can easily be undone. It will still be possible to reset your Amazon Firestick to factory settings, removing any third-party APK files and returning all settings to like-new.
Gain access to the installation of third-party apps such as Kodi APK, Mobdro APK, and Cinema HD APK by using this quick unlocking technique. These third-party streaming apps created by independent developers are not found in the official App store.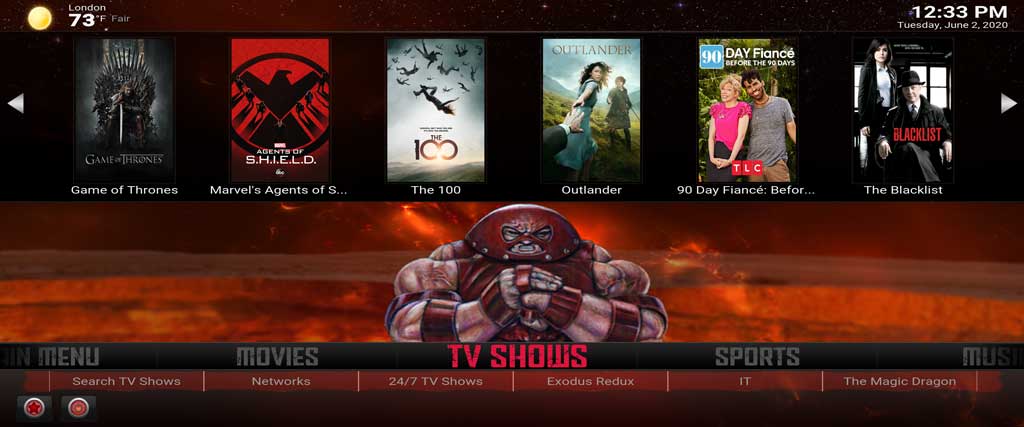 Downloaded third-party Android APK file installation can only happen once you jailbreak your Amazon Firestick device.
Free streaming apps vary in content. After following the step by step jailbreaking process, I advise that you download a few streaming Android APK apps. This gives the largest variety of free video content streams.
One quick shift in the system settings unlocks Fire TV Stick devices. Then, a quick VPN install and connection combine to create unlimited free streaming entertainment access on your Firestick!
Turn on Apps From Unknown Sources
This is the only real requirement to jailbreak a Firestick. It's essentially the same step needed with any Android phone, tablet, or TV box.
This step is necessary to jailbreak the Firestick. Otherwise, you will not be permitted to install any "jailbreak apps," which includes any app not found in the Amazon App Store.
From the Fire TV Stick home area, go to Settings > System > Device.
Then, find and click Developer Options.
Toggle Apps from Unknown Sources to ON if it says Off.
Note that when you toggle the setting to allow the use of unknown sources, Amazon throws a scary sounding warning at you. Accept this in order to unlock your Fire TV Stick and install your own choice of apps.


More can be done to secure your data from Amazon built-in corporate spyware. While in the Firestick settings area to toggle this on, I suggest also turning off app usage data collecting.
Check our Enable Apps from Unknown Sources guide to further unlock private APK installation with more legal privacy tips and smart safety hacks when you jailbreak a Firestick.
Install Downloader App
Downloader is fantastic for sideloading third-party jailbreak apps once you have unknown sources allowed in the Firestick settings.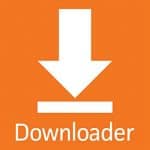 The Downloader app allows you to access and download APK files found on the web with its built-in web browser.
This utility Firestick app will also offer to install any Android APK once it has completed the file download.
Downloader is a free app developed by AFTVnews. Made especially for the Firestick, Fire TV, and Fire TV Cube, it can be found easily within the Amazon App Store.
Let's get it installed:
Enter Downloader in the search area on the Firestick. Search is found in the very top left of the home screen menu.
Once Downloader appears in the list of search results, scroll down and select it.
Then, follow the prompts to download, install, and open Downloader App on the Amazon Firestick.
Install Surfshark VPN
What's the best way to remain anonymous and hide your location while streaming online?
Installing a VPN app is a smart part of your jailbreak process.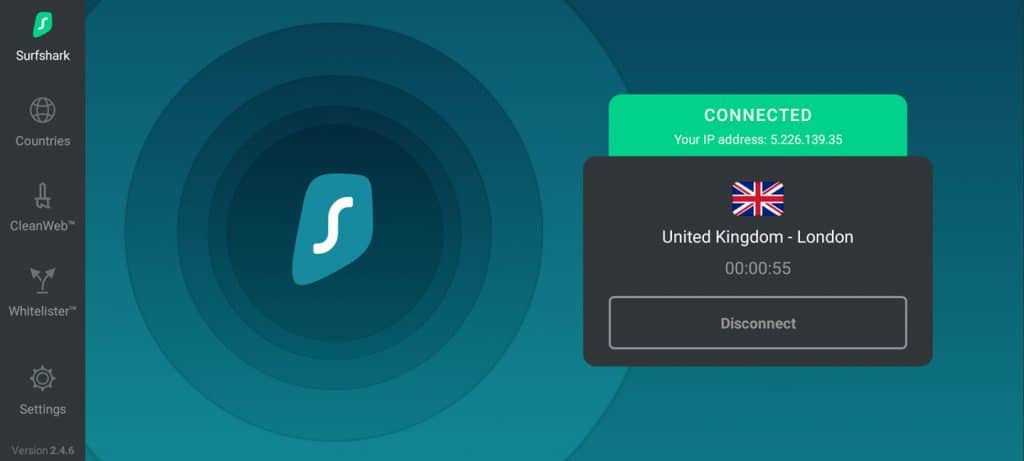 Surfshark VPN have developed native apps for all your streaming devices. Their custom Firestick VPN app is especially easy to install and use.
First, register for a Surfshark VPN account to stream anonymously.
Download and install their device-specific app onto your streaming device (preferably before installation of jailbreak apps).
Open your Surfshark VPN app and connect to a secure VPN server.
This is the only way to jailbreak a Firestick without being spied upon. Installation of jailbreak apps can now be done without advertising who or where you are or what you are doing.
Enjoy unlimited streaming content anonymously without exposing your data.
Install Kodi on Firestick
Kodi is the most popular of all media center apps to download with a jailbroken Firestick. Once you jailbreak your device, follow the steps below to download the APK for installation on your Firestick.
Open Downloader and select Allow.
In the text area, enter the URL http://kodi.tv/download, then click Go.
Use the navigation pad (ring button) on your Firestick remote to navigate the page after it loads. Scroll down and put the red cursor over ARMV7A (32 BIT).
Once the cursor is over the top of it, press enter (center of ring button) on the Firestick remote to download the APK.
Click on Install in the bottom left of Downloader after the APK file downloads.
You now have Kodi installed on your jailbroken Firestick, but there's something missing…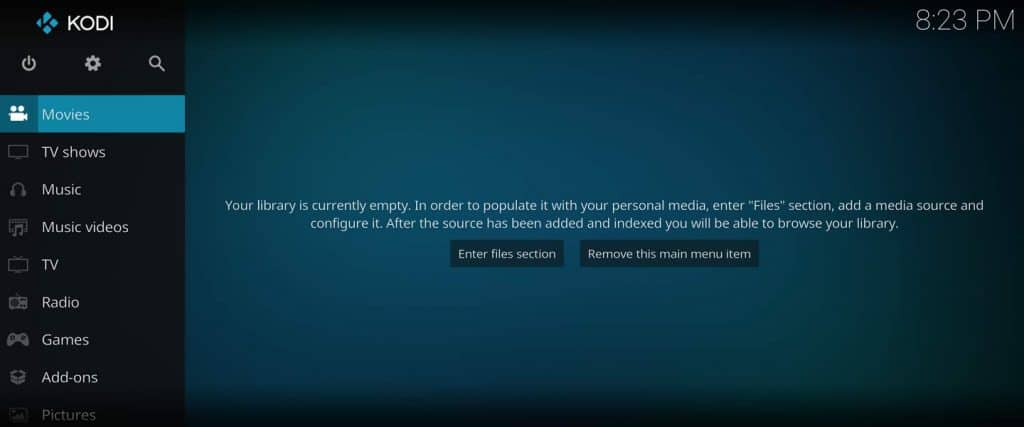 Addons find and provide VOD movies and TV shows along with live streaming videos. You currently have no addons installed, so let's remedy that.
Installation of a working addon will allow you to watch content streaming online.
Once you jailbreak any FireOS device, this is one of the best free Firestick apps for watching movies, TV shows, live sports, IPTV channels, and much more. That it's open source and continually checked for security by its giant development community is a bonus safety feature.
Access Kodi on Firestick
Now that you have Kodi installed on your Amazon Fire TV Stick, you're ready to personalize the way you access streams online with builds and other plugins.
First, let's move the app to the front of your installed Firestick apps list. This makes it easier to get straight to the good stuff whenever you want.
Hold down the home button on your Firestick remote until the quick access menu appears. This usually takes no more than one to three seconds.
Click on the "Apps" item to see all your installed and owned apps.
Scroll down to the last item in the list, which should be the app you just installed. I recognize that it's tempting, but try not to click on it just yet.
At this point, hit the hamburger (☰) button on your Fire TV Stick remote with the app shortcut highlighted.
Next, options will appear in the bottom right of your Firestick screen. Scroll to and click on Move To Front.
By placing your new jailbroken Firestick apps on the front of your Firestick home screen, you save time opening them in the future.
Allow Kodi Addons From Unknown Sources
The XBMC APK development team took a page from the Google Android and Amazon Firestick playbooks. Before the installation of any third-party addon is allowed, you must make a similar preferences adjustment within the app settings area.
It's really simple…
Click the gear icon at the top of Kodi's home menu.


Kodi Settings Icon

Click the System Settings tile in the bottom right of the screen.


Kodi System Settings

Scroll to Add-ons and click "Unknown sources".


Add-ons Unknown Sources Setting

Accept responsibility and click Yes to make the scary warning go away.


Scary Third-Party Addon Installation Warning
That's it. Your Kodi installation is now unlocked. With this done, next comes the installation of…
Best Kodi Add-ons
Follow along with a step by step guide to installing the popular Exodus Redux addon.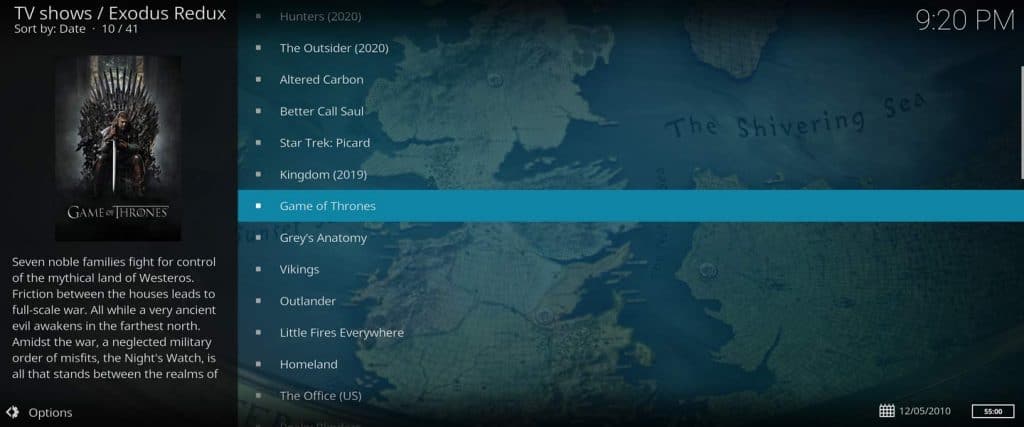 If you prefer a full cosmetic make-over with loads of streams, you can jump ahead to the next section. There you'll learn how to download and install a full Kodi build named No Limits Magic.
Exodus Redux
Exodus on version 18 Leia (or v17.6 Krypton) is the very first addon installation after most cord-cutters jailbreak a Firestick. With the future of the original Exodus currently in doubt, this is how we proceed:
Learn how to install Exodus on Kodi for Firestick below using its great working Redux version.
Latest Exodus Redux Info
If you've installed third-party addons before, the following info is all you may need.
Repo Name: Exodus Redux Repo
Source URL: https://i-a-c.github.io
If unsure what to do with this info, read on. I explain in detail how to get Exodus Redux installed on your Firestick. Note this small bit of information is all you will need to install most addons once familiar with the installation process.
2023 Kodi Exodus Install Guide
Follow the step by step tutorial below to get Exodus on Kodi Firestick. You'll get access to an amazing number of the best free streaming movies and TV shows.
Click the System icon (remember the cog?), then File Manager and Add Source.


Add New Repository Source

Enter https://i-a-c.github.io and click "OK", then name it exored and click "OK" once more.


Exodus Redux Repo Source

Next navigate to "Add-ons" >> "Add-ons browser"


Add-ons Browser (AKA Package Manager)

Click Install from zip file.


Install From Zip File

Click the exored repo source and click on repository.exodusredux-0.0.8.zip for repo home installation. Note the version number may change.


Exodus Redux Repo Zip File

Then, back in the Add-ons browser, click Install from repository.


Click Install From Repository

Enter Exodus Redux Repo >> Video add-ons, then scroll down and click Exodus Redux.


Exodus Redux in Repo

Click the Install button to begin Exodus Redux download and installation on your Firestick.


Click to Begin Installation
Exodus and its Redux version are very well known. This top addon is a fork of the legendary Genesis with updated code.
With a user-friendly interface and easy navigation, finding your way around in Exodus on Firestick is a breeze.
Exodus Redux shines as the most magnificent Kodi Fire TV Stick addon to date. It is simply an elegant addon for watching free movies and TV shows.
If you know what TV show or new movie you'd like to watch, Exodus delivers with a search and click. If not sure what you'd like to watch, then browsing for a top film or show is a piece of cake.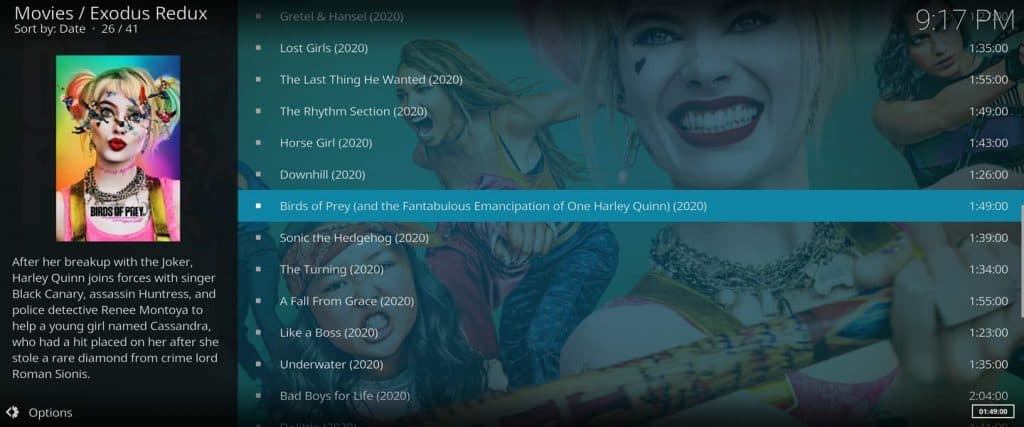 Great channels and shows categories along with easy navigation menus in Exodus will also help spark new interests.
More Working Kodi Firestick Addons
If this legendary addon isn't enough for you, check out my Best Kodi Firestick Addons guide. I continuously update the guide to feature a list of only the best available and working to provide free movies, IPTV channels, live sports, and more.
Even having your Netflix account working on your jailbroken Firestick is easy when using the Netflix Kodi add-on. It's really nice to have categoried lists of shows rather than the horizontal scrolling and other limitations provided by the official Netflix app. Not having the Netflix APK automatically play previews of shows when you just want a bit of info is wonderful.
You'll find that third-party addons come and go, so it's advised to have a few in reserve. The basic install steps provided here will work with nearly any third-party addon on your jailbroken Firestick.
Kodi Builds
I usually recommend installing individual add-ons. This method makes it easiest to personalize your streaming experience.
However, sometimes the convenience of a one-click Kodi build can be refreshing. Builds are a great way for beginners to jailbreak a Firestick and experience a wide assortment of available possibilities.
When done right, builds provide a great mix of top-performing third-party addons packaged to work well together.
Some builds make individual addon updates difficult. I also often find builds loaded with more addons than you'll ever need, many of them obsolete, broken, or just not finding any streams. This excessive amount of data can end up wasting storage space… bogging down your Firestick device.
My favorite build doesn't have these problems. Check it out:
No Limits Magic Build
Remeber that you can always uninstall Kodi builds or add-ons if they don't meet your needs. I recommend installing the No Limits Magic if you would like to experience streaming with a build.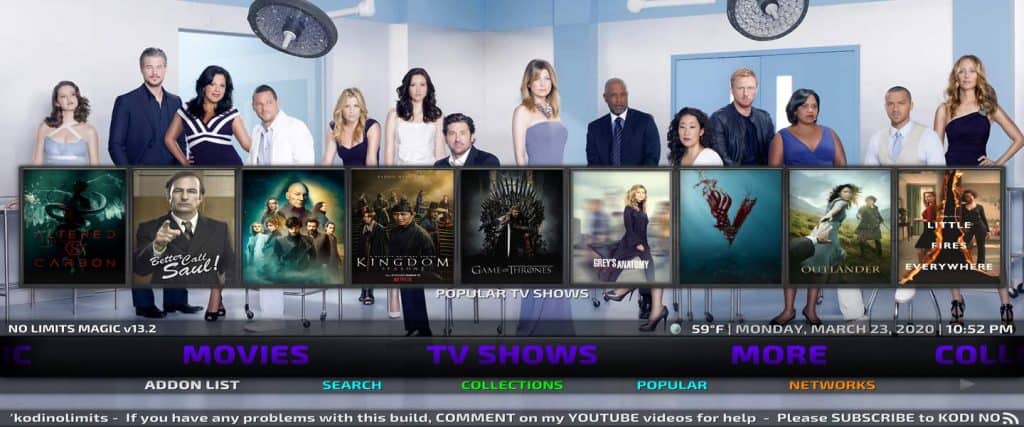 Get ready to watch endless free videos with this constantly updated build. It offers a diverse array of working video stream sources and utilities with one click.
No Limits Builds Wizard Repo Location
Repo Name: No Limits Magic Repo
Source URL: https://www.nolimitswiz.appboxes.co/
Install No Limits Magic Build or Firestick Lite Build
No Limits Builds Wizard gives you four build variations to choose from. The wizard provides a No Limits Magic Build and No Limits Firestick Lite Build, each of which offers two variants—a family friendly version and one with a very explicit adult (XXX) content section.
At the Kodi home screen, go to Settings, then File Manager, click Add Source then click <None>.
Enter https://www.nolimitswiz.appboxes.co/ as the source URL, then hit OK.
Then, name it magic, double-check for errors and click OK.
Next, navigate to Add-ons, then Add-on browser, Install from zip file and select Kodi No Limits.
Click plugin.video.nolimitswizard18.zip to install the wizard.
If it doesn't open automatically, launch Kodi Add-ons >> No Limits Wizard to install your choice of No Limits build on your Firestick.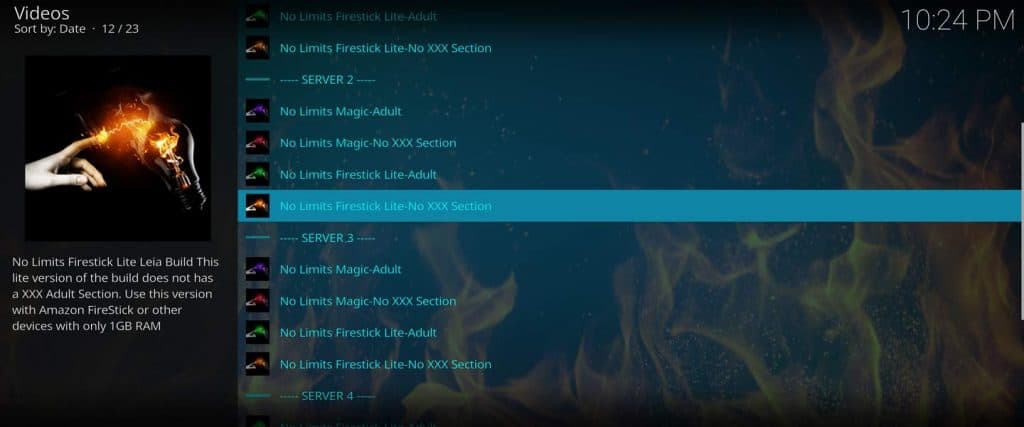 Mobdro App
I'd like to clarify that once you jailbreak a Firestick, Kodi isn't the only streaming app for watching free content.
The Mobdro app is another favorite among cord-cutters when unlocking a Firestick.
Mobdro is a free IPTV channels app providing access to live TV channels on a jailbroken Firestick. While not as reliable as an IPTV service like Pro Go TV , Mobdro has no subscription necessary.
With a pretty comprehensive offering of global satellite channels, including new movies, news broadcasts, TV shows, live sports networks, PPV events and more, some people prefer Mobdro over Kodi.
If you'd like to install the Mobdro app on your jailbroken Firestick, use the following steps.
Launch the Firestick Downloader app (installed earlier in this guide).
Select Home on the Downloader main screen and navigate to the URL field. At this point, you'll see a virtual keyboard appear.
Next, use your Firestick remote to enter the online source URL http://bit.ly/mdroapk with the onscreen keyboard.
Then, Downloader will begin to install the APK file automatically. Accessing Mobdro free live IPTV channels is only moments away.
Once the Mobdro APK file download completes, follow the prompts and click NEXT on the bottom of the screen.
Next, click install in the bottom right.
Wait for Mobdro on Firestick installation to finish. It may take a few minutes.
To watch live TV channels streaming online, the Mobdro app provides two options. You must either accept ads or share part of your bandwidth with the streaming network.
Even though the amount of Firestick bandwidth used is very small, the ad-free option can be troublesome if your Internet service charges for bandwidth.
If your ISP doesn't impose bandwidth limits of this sort, you get the best experience using the ad-free option.
Just don't forget to make absolutely certain your Surfshark VPN app is running in the background and connected to avoid also sharing your personal location and activities.
FAQ: Jailbreaking a Firestick
There seems to be a lot of confusion surrounding the Firestick jailbreak. Is it legal? Can I watch new movies free online? Is a VPN really necessary?
We hope to debunk some myths and help you understand a little better what to expect.
Why jailbreak a Firestick?

Without jailbreaking the Firestick, you're limited to installing apps available in the Amazon App Store. There are plenty of great apps in this official channel. Sadly, they are limited to the marketing giant's idea of what is best for Amazon profit margins.

By taking control of what apps you can install on your Fire TV Stick and using a VPN, you safely gain access to the entire catalog of free Android apps. This includes everything you can find in the Google Play Store. There are also a wide range of apps to install developed specifically for jailbroken Firestick and Android devices such as Kodi.

Essentially, if you're satisfied with what's available in the Amazon App Store, there is no need to jailbreak your Firestick. If you want control of your own entertainment channels, you may want your Fire Stick jailbroken.

Can I stream free movies on a jailbroken Firestick?

Once you jailbreak a Firestick with Kodi and install a few third-party addons, you have access to nearly every video found online. This includes new feature films, network TV series premiers, and live streaming sports events.

You need to be careful wielding this power, though. Take responsibility for your own actions, and know the laws in your region concerning online piracy. With the increase in online piracy and corrupt marketing efforts, it is best to only connect your jailbroken Firestick to the Internet through an encrypted VPN tunnel.

Do I need a VPN to jailbreak a Firestick?

No; you do not need to use a virtual private network when jailbreaking a Firestick. You can run most Firestick apps including Kodi just fine without a VPN.

Still, I highly recommend protecting yourself with Surfshark VPN when online. Streaming free video on your jailbroken Amazon Firestick, especially when torrenting or watching live sports, can get you into trouble. You really need to know all the laws concerning streaming media in your region. Then, you still need to know which streams require licensing and provide legal access.

Note that much of the content available from top Kodi addons may also be blocked by your ISP. This is easily avoided with the encryption of a VPN. This same great VPN also protects you from censorship if you have accounts with Netflix, HotStar, BBC iPlayer and many other official streaming apps. These and many other corporate media giants censor your ability to watch their programs depending on where you are unless you use a VPN to bypass their restricions.

When connected through a secure VPN (Virtual Private Network) tunnel, you remain safely anonymous and your activities online are private. While using the Surfshark VPN VPN app, all of your online activities are encrypted and hidden from hackers, corporate entities, and even your ISP (Internet Service Provider) or local network administrator.

Are jailbroken Amazon Fire TV Sticks legal?

The settings adjustment on your Firestick was put there by Amazon. Downloader and ES File Explorer are available in the Amazon App Store. Kodi is an open source media center app which mainly acts as a customizable software platform for the added functionality of plugins.

Essentially, there is nothing illegal about a jailbroken Firestick. What some people do with a Firestick once jailbroken may not be legal, especially when they aren't sure of what they are doing. It is always advised to remain protected within a securely encrypted VPN tunnel when using a jailbroken Firestick.

Many jailbreak setups find pirated streams of new movies, TV shows, and even live sporting events online. Accessing content not properly licensed for distribution in this way may be illegal in your area.

Is jailbreaking Firesticks safe?

There is nothing to fear when jailbreaking your own Firestick. While some streaming Firestick apps can get hacked, Kodi is open source software. A large community of developers keeps an eye out for its safety. With a top VPN app connecting you to the Internet, your identity, activities, and location are safely anonymous.

Where can I buy a jailbroken Firestick?

The safest and least expensive place to buy a jailbroken Firestick is Amazon. Fire TV Sticks don't come pre-jailbroken from them. You must jailbreak the Firestick yourself, but don't worry. Jailbreaking a Firestick is easy as click, click, stream.

The quick process of jailbreaking a Firestick is far safer than trusting some hacker you don't know while paying them money to potentially cryptojack you or use your device in a DDoS attack. This happens all the time when people buy jailbroken Firesticks from eBay or Craigslist ads.

It's super easy to download the APK on your streaming device with our illustrated step by step Kodi install guide. The installation takes just a few minutes when you jailbreak a Firestick with Downloader or ES File Explorer.

What does Jailbreak Fire Stick mean?

Typically a jailbreak refers to giving yourself the freedom to control and update a device by bypassing manufacturer restrictions. This control is often accomplished by unlocking or modifying the device operating system files.

With a Firestick, this isn't the case. A simple system setting was put in place by Amazon which enables app developers to install and test their apps. This settings adjustment along with a side-loader app such as Downloader by AFTV is all you need in order to install third-party apps such as Kodi.

Can I reset my jailbroken Firestick to factory settings?

Yes; resetting a Firestick to like-new factory settings is easy to do after you jailbreak a Fire Stick. In fact, setting your Firestick back to default settings and wiping it clean can be done in a few minutes using the Firestick remote control.

Does jailbreaking a Firestick void the warranty?

There is no physical hack involved in jailbreaking a Firestick. There are also no irrecoverable changes made to the software in the device. The settings hack used to jailbreak a Fire device is put in place by Amazon to allow app developers to test their software before submission into the Amazon App Store. Resetting the Firestick to factory settings is always possible with a jailbreak done using methods outlined here.

Can I get free channels on jailbroken Firestick?

Once you finish a Kodi installion on your Firestick, there are addons available to provide everything you can imagine and then some. This includes local broadcast TV stations along with major network television channels from around the world. Most live streaming events coverage, including sports and news, can be watched using a Kodi Firestick.

What is the Firestick monthly fee?

There is no monthly fee for using an Amazon Fire TV Stick, Firestick 4K, Fire Cube, or even an old Fire TV device. When you purchase an Amazon Firestick or other FireOS device, you don't need to make monthly payments for subscriptions.

Amazon Prime Video, Netflix, Hulu, HBO, and many more have a ton of great content. All of these official apps charge a subscription fee to watch their streaming movies and TV shows. There are also "free" apps in the Amazon App Stre such as PlutoTV, IMDB TV, and even Crackle. Most of the official free apps make their money running as commercial television networks. If you don't mind watching a few commercials every few minutes, you'll love the content they provide.

By jailbreaking an Amazon Firestick, you also gain access to all the paid and free streaming apps available in the Google Play Store. You even get access to a huge number of free streaming apps developed especially for jailbroken Firestick and Android devices.

What is the best Firestick jailbreak app?

While a site named KodiFirestick.info might seem biased, most jailbreakers want the freedom of a Kodi Firestick. The number of 3rd party addons available makes this a great all-purpose Firestick jailbreak app. The limited storage space available on the Amazon device iteself makes this an important distinction.

If your needs are simple, and you know what you want, you may choose to install a movie and TV streaming app with less options on your jailbroken Fire TV Stick. There are many available, though none are as popular or open to customization as Kodi.

What is side-loading apps on Fire TV Stick?

The final step in jailbreaking is an action called 'side-loading' software apps. This is a term used for accessing a third-party APK installer file from anyplace other than the Amazon App Store or other "official' app store.

As detailed in the article above, we side-load apps by using the free Downloader or ES File Explorer. While both Downloader and ES File Explorer can be downloaded for free from the Amazon App Store, none of the third-party apps mentioned in this article can be found there.

The terms "side-load a Fire TV Stick," "unlock a FireStick," "to jailbreak a FireStick," and "to jailbreak a Fire TV Stick" all mean the same thing. The same settings hack is used to jailbreak a Fire TV Cube as when jailbreaking an Amazon Firestick 4K.

Do I need Kodi addons to watch free shows?

Kodi is a media center software. This open-source platform works great for organizing and watching media files. The magic truly happens when customized with a video streaming third-party add-on.

Once you've installed version 18 Leia or the older Krypton version 17.6 on Firestick 4K, Fire TV Stick, or Fire Cube, you're ready to get at least one best working add-on installed.
Best VPN Protection Sale Today
Try Surfshark VPN free for 30 days!
Amazon Fire TV Stick: Jailbroken
With your new install of Kodi live, front, and center on your unlocked Fire TV Stick, get ready for streaming entertainment like you've never seen. Be careful, though; that big screen TV may become your new obsession.
While Kodi isn't the only Android app capable of free streaming on an Amazon Fire TV Stick, it's the most popular media center software for many good reasons. The Exodus add-on is practically synonymous with Firestick jailbreak.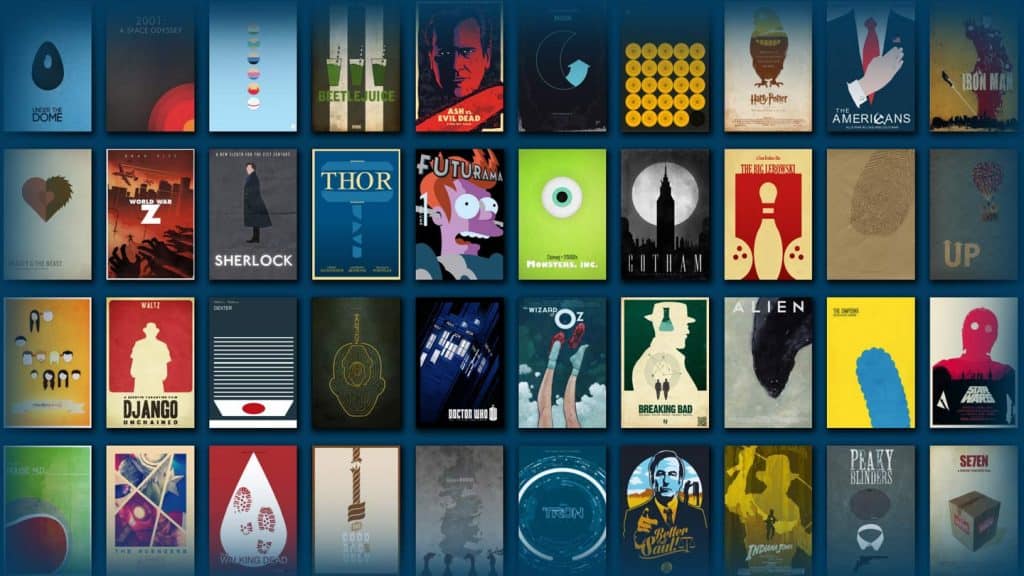 How do I jailbreak a Fire TV Stick?
Along with "what is a Firestick jailbreak?" this may be the most popular question I hear from friends and family.
To help explain the simple steps necessary, I wrote this Ultimate Firestick Jailbreak Guide. I hope to have clearly demonstrated every step you need to watch top free movies, live sports events, popular IPTV channels, local news broadcasts, PPV specials, and much more on your Amazon Fire TV Stick.
Grab a snack, pop the top on a cold one or two, connect through your encrypted Surfshark VPN app, and stream anything you want till your heart's content.
Thanks for reading!